Poll: Should West Bend School District list true cost of referendum on November ballot?
The West Bend School Board (WBSB) met Monday night, Aug. 13. As of Friday, Aug. 17 the minutes from the WBSB Monday, Aug. 13 meeting had not been posted on the District website.
Cobbling together some of the details from the board agenda there appears to be a draft of a referendum question for the Nov. 6, 2018 Fall Election ballot.
According to the draft, the WB School District appears to be proposing a $50 million referendum for construction of a new Jackson Elementary School and capital improvements at the West Bend High School.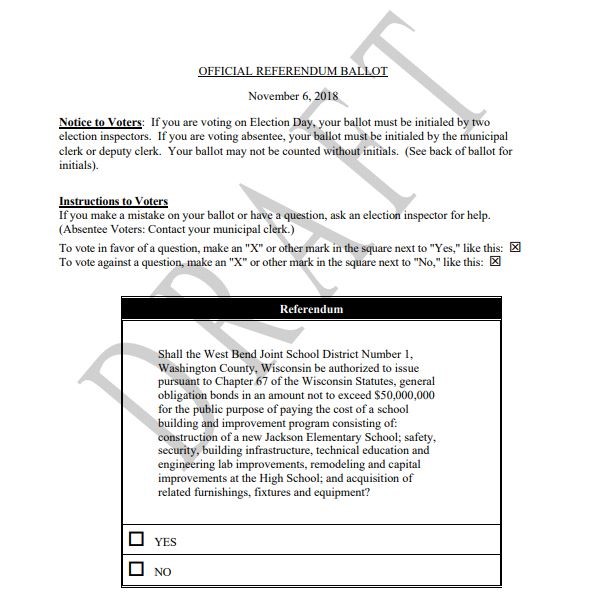 The proposal for a 2-story Jackson Elementary follows on the heels of a report issued by the WBSD regarding a trend of declining enrollment.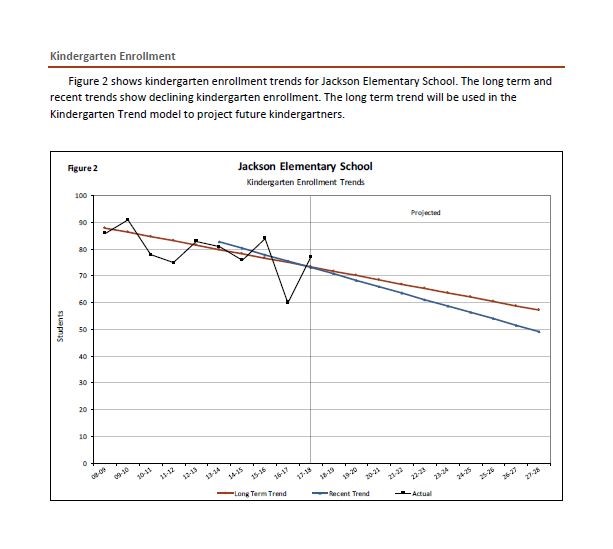 In a 6-page report from Baird the preliminary total interest on the referendum would be $35,176,350 for a total cost to taxpayers of more than $85 million.
Also note the West Bend School District is currently paying off about $130 million over the next 20 years in current referendum debt.
The poll question deals with a policy passed in January 2012 regarding fiscal management. The policy below hones in on key terms like "genuine transparency regarding the planned use of public funds" and  "a much more fully informed electorate" and "builds trust among all District stakeholders."
The question is: Should the board move forward on a referendum, would you as a taxpayer like to see the total cost and interest listed on the ballot question ( $85,176,350) or would you prefer to see only the referendum amount ($50,000,000) as listed in the draft above?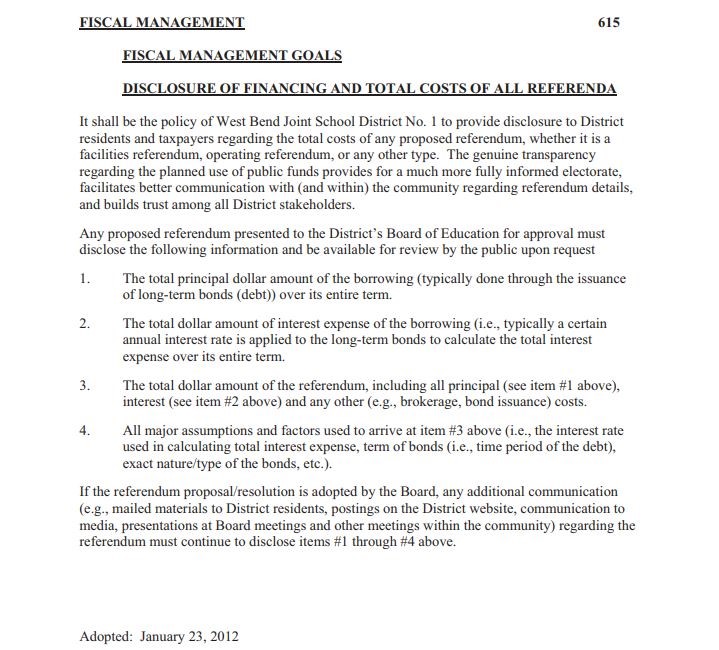 West Bend School Board member Chris Zwygert, speaking as a person, indicated the board would be meeting again Monday, Aug. 20 at 6 p.m. to discuss whether to move forward with the referendum.
Zwygert also indicated if the board decides to go forward with the referendum there is a time limitation when the board needs to declare a referendum and its language to get it to the municipal clerk. "My understanding is if we do that on our next board meeting, which is the last Monday in August (Aug. 27) that gives us one day to get that information to the municipal clerk," he said.
Ribbon cutting at Born Learning Trail in Slinger
It was a perfect day for a ribbon cutting this week for the new Born Learning Trail at Brendan's Playground in Slinger.
The event featured a who's who of local educators and business leaders including Slinger School Superintendent Daren Sievers, Pete Rettler from Moraine Park Technical College, the United Way of Washington County was in the house and so was trail sponsor Legendary Whitetails.
This is the fourth Born Learning Trail in Washington County. It's designed to help with early-childhood development.
Some of the learning segments feature hopscotch, colored circles, letters from the alphabet and there's classic Legendary-Whitetails flair to the trail with animal footprints from deer, birds and raccoons.
"It's nice to get the kids away from the screen time and be with their families; be active and the trail helps brain development," said mom Theresa Huffman.
Amish working on luxury apartment building in West Bend
We'll it's not every day you see Amish contractors building a luxury apartment complex in West Bend. Neighbors have noticed the straw hats, suspenders, gray shirts, beards and the charm and courtesy of the crew at 128 Wisconsin Street.
Steven is one of six Amish carpenters who hail from Kingston, WI. located in Green Lake County.
"I'm sure people have been looking at us but I don't look around too much when I'm working," Steven said.
Steven, 32, is part of New Home Builders in Kingston. He worked in the Washington County area before, building a home on Highway 144 on the western edge of the county.
From a cultural perspective Amish have generally been known to abstain from electricity.  An article in Amish America entitled "Do Amish Use Electricity?" was written about Amish living off the power grid and how it "helps to prevent the influence of radio, television and the internet that may offer temptations that contradict the core Christian values of the Amish community."
On the job site however, it's evident the Amish are using power tools. "If somebody furnishes the power tools we use them but we also take our own tools from job to job," Steven said.
Culturally the Amish also don't like having their photo taken, so permission was requested.  "I'm not going to pose for you… but it's OK if you take my photo," said Steven.
There will be 10 market-rate apartments starting at $1,475 a month. The luxury apartments with stainless steel appliances, hardwood floors, granite countertops, private balcony/patio, pet friendly, heated underground parking with storage; some will have views of the Eisenbahn trail.
The occupancy should occur in December.
West Bend Town Board tables action on closing boat ramps
A full house during Monday night's Town of West Bend Board meeting.
There were a couple of hot-topics on the agenda. Town Chairman Jim Heipp asked to table action on the closing of boat ramps in the town. "We'll put it on hold until further notice," said Heipp.
Citing a lack of communication from the Department of Natural Resources and attorneys regarding public access Heipp called to table the action.
Heipp cited a couple statues from the DNR regarding public access and said he received a notice from the board's attorney that the statutes weren't clear to them either.
"We're going to put our decision on closing the ramps on hold until we get further information from the DNR," he said.
Town Supervisor Jeff Geib seconded the motion. Supervisor Frank Carr was the only dissenting vote.
"My reading of that DNR requirement has to do with permanent closings and not temporary closings," said Carr. "It seems quite clear to me in the regulation that is a permanent closing and not a temporary closing. So that's why I'm voting against the tabling because I don't believe it applies in this set of circumstances."
Heipp said he wants to have further discussion and more facts before making a decision.
Other highlights from the meeting:
–Rental properties on Big Cedar Lake: Town of WB is zoned R-1 residential. Town will have to look at businesses being run and renting out their docks. Heipp said this was a zoning ordinance and a violation of town code. "We're going to have to figure out how to enforce that because you people have way, way too many boats on that lake," said Heipp. "And the boats aren't people who are lake residents or people who are just coming in on Saturday and Sunday."
-Fleet Farm access on County Hwy Z: Fleet Farm laid out designs with the West Bend Plan Commission last week regarding its new 190,000-square-foot store on Highway 33 and County Hwy Z. During the pitch to the city Fleet officials said they would only have access roads off Highway 33. During Monday night's Town Board meeting Heipp said the city, state, and county are satisfied with that plan however the DOT wants an access road off County Hwy Z. That plan is still in discussion.
Gold Seal of Approval for Alliance Services, Inc. in West Bend
Alliance Services, Inc. has earned the Joint Commission's Gold Seal of Approval® for Health Care Staffing Services Certification. The certification demonstrates Alliance Services' commitment to providing qualified and competent health care professionals.
Alliance Services, Inc. underwent a rigorous onsite review on Friday, July 27, 2018. Joint Commission experts evaluated compliance with national standards that assess how health care staffing firms determine the qualifications and competency of staff, placement of staff, and how they monitor performance. All certified health care staffing organizations are required to collect data on their own performance.
"Alliance Services, Inc. has demonstrated its commitment to providing quality health care staffing services to health care organizations as evidenced by its achievement of Joint Commission certification," said Patrick Phelan, executive director, Hospital Business Development, The Joint Commission. "We recognize and commend Alliance Services, Inc. for its efforts to provide a safe, high-quality standard of service."
"Alliance Services, Inc. is pleased to receive certification from The Joint Commission, the premier quality improvement and accrediting body in the nation," added Georgianna "Gigi" Dee, President, CEO and Director of Nursing.
"Health Care Staffing Certification demonstrates our commitment and accountability to clients and the health care professionals we employ. Certification establishes, defines and measures delivery on key functional areas and performance measures across the entire industry."
2018 Board of Review is Aug. 28, 2018
The City of West Bend sent all property owners a 2018 property assessment. The 2018 Board of Review will be held on Tuesday, August 28, 2018 at 10 a.m. in City Hall.
Keep in mind the city did explore an advisory referendum with a wheel tax or a property tax increase or asking Washington County for a share of its sales tax. A final decision is still pending to determine how to pay for more road improvements in the City of West Bend.
There's also a possible Nov. 6 referendum for the West Bend School District. A decision to move forward with a $50 million referendum with $35+ million in taxes and interest for a total of $85+ million is being discussed Monday, Aug. 20. Remember this debt would be placed on top of the $130 million the district still has with current referendum debt.
So that total would be brought to more than $210 million in outstanding referendum debt for the school district alone. Finally, remember your property tax bill is made up of taxes to be paid to the city, county, school district, Moraine Park Technical College and the state. The last city-wide revaluation was 2011.
Updates & tidbits
– This Sunday, August 19, Rev. Nathan Reesman will lead a Holy Hour from 12:30 p.m. to 1:30 p.m. at Saint Frances Cabrini Parish, 1025 S. Seventh Avenue, West Bend, to pray for the purification of the Church's clergy and ministers, and to pray in reparation for the sins against chastity and the abuse of power that have been committed against our people. Please join us in prayer.
– On Sunday, August 19, the Allenton Parade will be dedicated to the only remaining ladies who are charter members of the American Legion Unit 483.Audrey Rosbeck and Mary Jane Sternat will be honored for their years of contributions to the Auxiliary and the greater Allenton Area.
– A note of congratulations to Ryan Vossekuil who was sworn in this week as the Village of Jackson's new Chief of Police. Vossekuil previously served 19 years with the Mayville Police Department, working his way up the ranks from police explorer to police chief. Chief Vossekuil has been busy the last couple weeks getting to know the village and the people who work and live here. Stay tuned – Jackson PD will be handing out Green Bay Packer trading cards this year.
–The annual St. Frances Cabrini Used Book Sale and Rummage Sale is Saturday, Sept. 8 from 9 a.m. – 4 p.m. and Sunday, Sept. 9 from 8:30 a.m. – noon in Mother Cabrini Hall in the lower level of church. Used book donations will be accepted from now through Sept. 7.
– The annual Allenton Picnic is this weekend, August 17, 18, and 19. There's lots of family activities including games and rides, music and food and don't forget Sunday's parade.
– The West Bend High School Class of 1948 will hold its 70th class reunion August 18, 2018 at New Perspective, 2013 Continental Drive in West Bend from 11:30 a.m. – 2 p.m.
– Marty Schulteis as the next Washington County Sheriff. The Captain beat Lt. Jason Guslick during Tuesday's election. Guslick issued congratulations to Schulteis. "I want to thank everyone who voted for me and those who helped in my campaign," said Guslick. "I want to personally congratulate Marty Schulteis on his victory and I look forward to working with Sheriff Schulteis in the future and to continue to serve the citizens of Washington County."
Schulteis will take the oath of office in January 2019 as Washington County Sheriff Dale Schmidt steps into retirement.
In February this year Schmidt announced he would not seek another term in office. His current term ends Jan. 4, 2019. In neighboring Dodge County incumbent Sheriff Dale Schmidt beat Jim Ketchem.
-St. Frances Cabrini annual Rummage Sale is Thursday, Sept. 20 from 8 a.m. to 5 p.m. and Friday, Sept. 21 from 8 a.m. to noon in Mother Cabrini Hall in the lower level of the church. Baked goods will also be available. Rummage items can be dropped off Sept. 15 through Sept. 19.
-If you were a fan of the Galactic McDonald's, 1140 S. Main Street in West Bend, you may want to pay a last visit as changes are ahead. The golden arches will undergo a large remodel which includes removing the galactic theme and the play area and a new playland with interactive technology will be put in its place. McDonald's is going with a more modern, contemporary theme. The changes take place this month with a goal is to remain open during construction. On a history note: The Galactic McDonald's first opened Feb. 28, 1996. "I was there when the special sauce for the Big Mac was mixed at the store and when the Hamburgler crawl thing, bouncy fry girls and metal slides were in the outdoor play land," Sharon Ruplinger said recalling how they had to shut down the play area when it was "real hot because kids would burn their legs."
– There's a golf outing Sept. 23 at West Bend Lakes Golf Club and proceeds will go to the Luke Gromowski Ironman Scholarship Fund. Luke Gromowski was a senior at West Bend East when he died in a car accident in November 2014. A $1,000 scholarship will be presented each year to a senior from West Bend East and West High School that participated in football from fifth grade through their senior year. Registration for the outing is 8 a.m. with a 9 a.m. shotgun start. The cost is $100 per adult and $50 for a student. Contact Ed Ihlenfeld at 262-707-5449 for more detail.
– Rally Time Sports Bar and Grill in West Bend is looking for a part-time line cook position. Rally Time has a family-friendly team atmosphere. The position is primarily day shift and coverage as needed. Call Dan at 262-389-1142 or Cindy at 262-389-0839 or stop at the bar for an application.
-Full time and part-time bartenders wanted at the V.F.W. Post 1393, 260 Sand Drive, West Bend. Call Jerry Faber for details 262-388-7006.
– Sign up today for the 8th Annual Swinging for Seniors Golf Outing at West Bend Lakes Golf Club. All proceeds benefit Senior Citizens Activities, Inc. Stick around after golf and take part in the Classics for a Cause Raffle and a chance to win a 1968 Ford Mustang.
Tornado siren malfunctions at Washington County Fair Park
We had sunny skies and pleasant temps last Sunday and the tornado siren was blaring for nearly an hour at the Washington County Fair Park. It wasn't a weather emergency and the Russians weren't coming, according to the Washington County Sheriff's Department it was just a malfunction