All credit goes to commenter Mark for this one…
I wrote a post a couple of days ago about attending a BLM protest in Port Washington. In that post, I shared my observation that "most of the BLM organizers were young, white, and female." It certainly didn't seem like a local expression of outrage.
Mark pointed out in the comments that this was a group that had organized and the Washington County Daily News had a story on them. Here is that story:
WAUKESHA — A protest group called "Break the Silence in the Burbs" has scheduled protests into October in support of the Black Lives Matter movement throughout Washington County and southeastern Wisconsin. Organizer Brittany Vulich is inviting anyone that is interested in participating to request joining the group on Facebook, where more details on each of the protests will be posted and updated, including protest routes.

A request to join the Facebook group requires filling out answers to three questions.

The group has already organized three protests — in Grafton, Mequon, and, last Friday, in Menomonee Falls.

[…]

Upcoming protests include: Port Washington, July 10; Brookfield, July 17; Cedarburg, July 24; West Bend, July 31; Sheboygan, Aug. 7; Waukesha, Aug. 14; Lake Geneva, Aug. 21; Germantown, Aug. 28; New Berlin, Sept. 4; Fond du Lac, Sept. 11; Muskego, Sept. 18; Slinger/Hartford, Sept. 25; Wauwatosa, Oct. 2; Franklin, Oct. 9; Sussex, Oct. 16; Racine, Oct. 23; Fox Point, Oct. 30.
So it is clear that these protests in the burbs are being organized by this group. They are not organic to those communities. But who is organizing and why? Mark dug deeper regarding Ms. Vulich
According to her LinkedIn, she is a "field organizer" for "Organizing Together 2020".  Also current experience as field organizer for "Emily Siegrest for Wisconsin State Assembly."  Finance Director for "Jill for Justice for Wisconsin Supreme Court". On the Board of "Environmental Caucus of Wisconsin Democrat Party".

"Organizing for America 2020" booted up in January of this year.  Long before this BLM movement picked up the current momentum.
Looking at the video from the day, it looks like she is one of the two white girls leading the protest. It's hard to tell with the mask. In any case, the whistle and bull horn are the tools of professional organizers.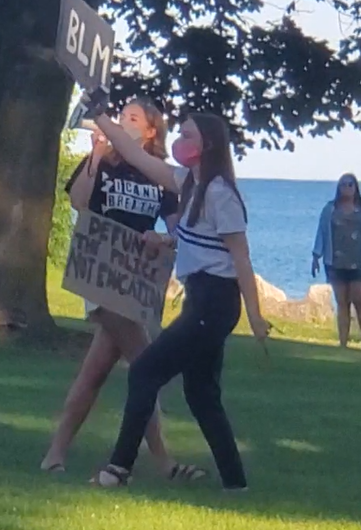 So this particular BLM protest didn't really have anything to do with black lives. It had everything to do with a well-funded effort by the Democrats to organize for the November election. Like usual, the Democrats are taking advantage of racial outrage to gain power for themselves. It's an old playbook, but an effective one.