Interesting readout from the latest Marquette Poll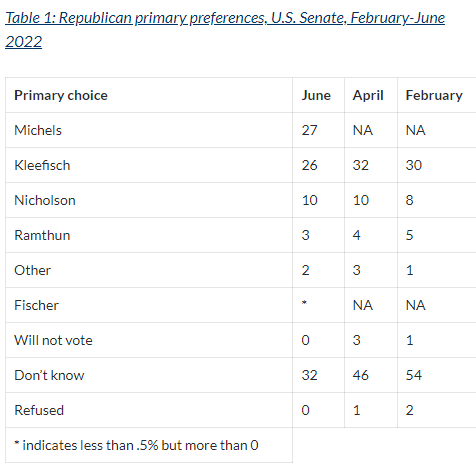 Michels and Kleefisch are tied. What's interesting is where Michels' support so far has come from. Ramthun and Nicholson are virtually the same. They clearly have a loyal, if small, support base that isn't moving off of them. Of Michels 27% support, 14 points came from the pool of undecided and 6 points came from Kleefisch.
It appears that there was a portion of the Republican base that was undecided because they were unhappy with all of the candidates. About a third of them came off the fence to support Michels. And almost 20% of Kleefisch's support has fled to Michels. This is after a major media blitz by Michels without anyone really going negative on him.
Now what? My guess is that the people who are planning to vote for Ramthun and Nicholson don't move. They may bleed a point or two one way or the other, but they appear to have peaked. That leaves about 85% of the GOP base for Michels and Kleefisch to fight for. They will need about 42%-44% of the vote to win a plurality.
At this point, I don't think that Michels or Kleefisch can take votes away from the other. Their core bases are set. That means that the only pool of votes to get are the remainder of the undecideds. I also don't think that the remaining undecideds will break from Ramthun or Nicholson in any great numbers. Those two candidates have very specific messages and if they were going to work on an undecided primary voter at this point, it would have. That means that Kleefisch or Michels will have to win over half of the remaining undecideds to win.
So the real question is, why are those primary voters still undecided? What are they waiting for? What are they not finding in the existing slate of candidates? The first candidate who figures that out will win.